Habenaria属
Habenaria属
Genus Habenaria
Genera Habenaria
Habenariaは約800あるラン科植物の属の一つ。 600種以上が熱帯及び温帯の草地に分布している。
Habenariaはいろいろの大きさの地下茎或いは塊根を持ち、直立した茎は20〜80センチに達する。葉は披針形または卵形で、茎に沿って、或いは茎の基部に生ずる。花の色は主に緑、白、黄などだが、鮮やかな赤い花を持つものもある。パナマには10種以上が知られている。
Habenaria, is one of the genus of Orchidaceae family which include approximately 800 described genera. Over 600 species spread throughout both tropical and temperate grasslands.
Habenaria species have small to large underground root tubers and erect stems 20 to 80 cm in length. Leaves are lanceolate or ovate, and are borne either along the stem or only at the base. Flowers are mostly green, white or yellow but a few exceptions have brilliant red flowers. In Panama more than 10 species are known.
Habenaria es un género en la familia de Orchidaceae que incluge approxidamante 800 generas. Más de 600 especies extendido por todo praderas tropicales y templadas.
Habenaria especies tienen tubérculos subterráneos pequeñas y grandes raíces y tallos erectos de 20 a 80 cm de longitud. Las hojas son lanceoladas u ovaladas, y están a cargo ya sea a lo largo del tallo o sólo en la base. Las flores son en su mayoría verde, blanco, o amarillo, pero tiene algunas excepciones brillantes flores rojas. En Panamá más de 10 especies son conocidas.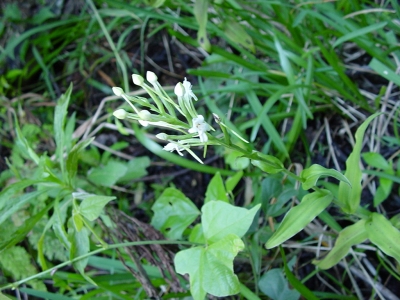 Habenaria sp.,
本属は主にアジアに分布。
この写真は12月にコスタリカのモンテベルデで撮影した。
This genus is found mainly in Asia
This photo was taken at Monteverde in Costa Rica in December.
La mayoría de este género se encuentra en Asia
Esta foto fue tomada en Monteverde de Coasta Rica en deciembre.
2012.06.24 Sunday
-
-
by cospa